Tuition Assistance Program Spotlight: David B., IT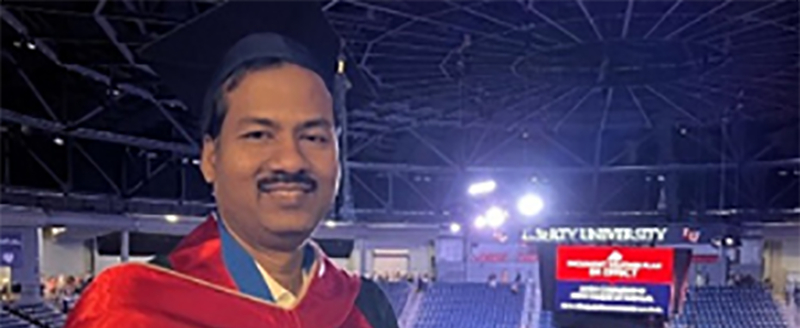 Did you know that NJM has a Tuition Assistance Program available? As part of the company's commitment to providing employees with opportunities for continuous learning, NJM's Tuition Assistance Program will reimburse up to $5,250 per employee per year for tuition, books, and related fees, based on the course grade.
Tuition Assistance is one of the many development opportunities we proudly offer at NJM. David B. of IT recently took advantage of this offering, and eagerly shares his experiences in his own words:
As we all know, learning is a continuous process in our day–to–day personal and professional lives. My dream of going back to school to complete a master's degree in business administration was made a reality because of NJM's tuition assistance program. For all eligible employees, this program is a boon and a great opportunity for academic growth and personal development.
Offered through Bright Horizons, discounts are also available through certain network schools. At Liberty University, I was able to get 15% off my tuition fees. Also, reimbursement was based on grades received, so I can confidently say that was one of the primary motivating factors for me to attain A's in all my courses — resulting in an MBA high distinction (Gold medallion).
The process for application submission, approvals and payments was seamless, in part due to the help of my supervisors, department head and Human Resources, who quickly assisted me with any coursework processing. The Company was also open to feedback for improvement of the program, and even implemented one of my suggestions.
I consider it a blessing to work for a company that encourages employee development. Here are a few thoughts for those who may be considering taking advantage of the tuition assistance program:
Find a school that matches your expectations and identify a school in the network with the level of tuition fees that will allow you to take a specific number of courses per year, if that is important to you.

While the first course was an eye–opener, I cruised through the rest with only small hiccups here and there. Through hard work and help from family — including sacrificing family and weekend time — I am happy to have completed this journey.
Like two sides of a coin, learning is equally important in our personal lives and at work. A good quote I will share is from Thanipadal by Avvaiyar: "Katrathu Kai Mann Alavu, Kallathathu Ulagalavu," which means, "What we have learned is a mere handful, and what we haven't learned is the size of the world."
---
Are you considering a career move? Join us!
NJM Talent Acquisition Team
NJM Insurance Group
Careers@njm.com
Connect with NJM:
Indeed | Facebook | Twitter | LinkedIn | Instagram | NJM Careers Site